Hello, Everyone! Welcome to Melissa's Fab Friday Feature
_____________________________________________________________________________________________________________________________
Before we get started, we want to congratulate SANDY DAYHOFF for naming this wonderful feature!  Sandy, please email customer service to claim your gift certificate!
_____________________________________________________________________________________________________________________________
"Today I'm using the Bold Blooms stamp set to create a soft, watercolor effect on a thank you card for someone special.  If you don't have Bold Blooms, no problem, use your favorite Ink to Paper floral set and follow the steps below."
STEP 1:  Stamp flowers on Stamper's Select White cardstock or watercolor cardstock if you have some.  The Stamper's Select White will react to water just fine and give you the watercolor look you're hoping for.  I used my MISTI stamping tool to create darker edges on my flowers and leaves, but it isn't necessary.
STEP 2:  Die cut your flowers from the cardstock base.  If you don't have the coordinating flower dies, no problem there either, you can easily cut each image using your scissors.  I learned that it's easier to die cut first before adding water.  Now that your flowers have been cut out, spritz them lightly with water and let dry.  The more water you use, the more your colors will fade and look too washed out, so just a little water will do.
STEP 3:  Use the Border Bling Chain die (which will be back in stock later today) to cut a beautiful frame for your sentiment and flowers.  Save the inner portion and stamp your sentiment near the bottom edge.  I stamped in Prairie Grass and Summer Sunrise.
STEP 4:  Create your card base from white cardstock and add coordinating patterned paper to the bottom third and upper two-thirds, selecting patterns that are not too busy and won't detract from the flowers used.  Adhere your frame and stamped sentiment layer to the center of your card.
To finish, add your florals using dimensional adhesive, arranging them in such a way that they arch over your sentiment.  Embellish with sequins in colors that compliment your card and add just a touch of shine.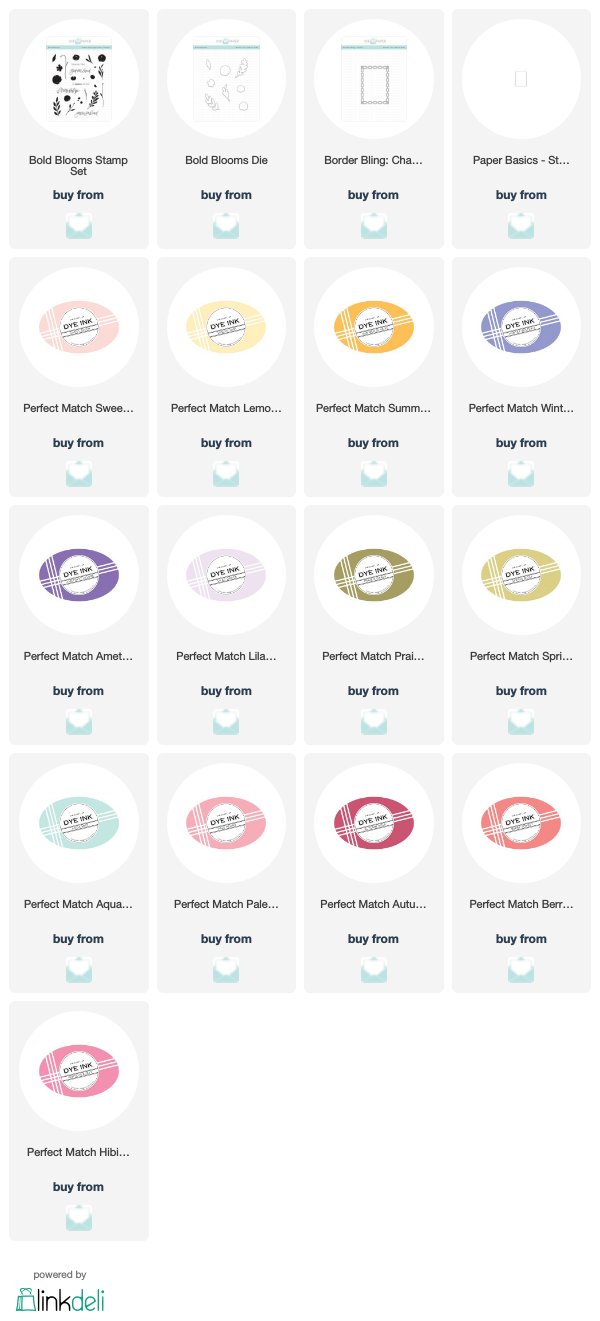 PRIZE
One winner will be chosen at random to receive a $25 gift certificate.
RULES
To enter, participants are required to create a soft, watercolor effect Thank You card with your favorite Ink to Paper floral set for someone special and share it via the link below. We can't wait to see what you make!
Only one entry per person and the deadline is March 10th at 6am. This post will be updated with the randomly selected winner.
CHALLENGE
EDITED TO ADD THE RANDOMLY SELECTED WINNER
Congratulations, Luanne Ford! Please send an email to customer service and provide them with your full name and the email address you would like your gift certificate sent to. Thanks so much to everyone for playing along!
You are invited to the Inlinkz link party!