For the past 11 years, we've released some incredible, innovative products to help you create anything you could imagine. We started in 2007 as a one-stamp-a-month company and have grown into a multiple-stamps-per-month company with wonderful product designers from all over the country. We had a lot of fun recently looking back at all our top products from the past 11 years as we gear up for our big anniversary!
2007
In our first year of business, we produced one stamp set every month. We were just finding our place in the world of cardmaking and we exceeded everyone's (including our own) expectations with the Beautiful Blooms Stamp Set. It was the twelfth stamp set that Nicole Heady ever designed and it included everything you could ever want in a basic floral set. The stamp set was a classic design that had been a workhorse for many of our designers over the years. If you have this stamp set in your craft room, consider yourself lucky! The design was so popular that we released Beautiful Blooms II in 2010.
2008
Many of us discovered the joy of cardmaking through birthday cards. We decided to make a unique card for someone special and the next thing we knew – we're completely obsessed with cardmaking! The Birthday Basics Stamp Set released in 2008 was our biggest seller of the year. It is a classic stamp set with all the birthday sentiments you need to make a special card for your baby to your grandpa. A few of the sentiments can also be used for other occasions, like weddings and a new baby, making this stamp set versatile as well.
Aqua Mist Cardstock was our most popular cardstock for 2018. The light aqua color is perfect for everything from baby shower invites to wedding cards to birthday cards. Throughout the years, it continues to be one our favorite colors.
2009
In 2009, Papertrey Ink released its new innovative line called Button Bits. It took us nearly three months to develop and we were ecstatic when we finally launched it in July 2009. Everyday Button Bits was the first of many sets that make up the Button Bits Collection. The special stamp set contains 11 images that can be completed with the addition of buttons or circle punches along with 17 complimentary sentiments. Just like us, you all went crazy for the new stamp set and made it the best seller for 2009 along with Aqua Mist Cardstock again.
2010
The button craze continued into 2010 as you couldn't get enough of the stamp set. In 2010, our new die sets started to take off with the launch of our new Limitless Layers Collection. This classic die collection is as versatile as it comes. You all loved our Limited Layers 1 ¾" Circle Die Collection, but we also have other shapes like hearts, ovals, and squares. New in 2009, we decided to start making sampler packs of all our cardstock colors allowing you to try new colors along with your favorites. It was a big hit and we've continued to make these Cardstock Samplers over the years.
2011
Once again, Papertrey Ink developed an innovative new product that you loved as much as our product contributor, Melissa Philips. Melissa loves hanging and pinning little tags to all her projects so when she submitted her idea of a set of tag shapes and stamps, we knew it would be a big hit! The Tiny Tags Stamp Set and Tiny Tags Die Set were a huge success in 2011. Over the years, we created new tiny tag sets to meet all your design needs. Many of you tested your new tag designs using our 2009 Perfect Match Cardstock Sampler.
2012
Our Happy Hexagons Mini Stamp Set topped the sales charts in 2012. This fun little collection of patterned hexagons is perfect for creating colorful backgrounds for any card. The stamp set allows you to mix and match and play with various color combinations for a dizzying array of designs. It pairs perfectly with the Cover Plate: Hexagon Die, which allows you to insert the little hexagons into the frame! For paper, our Kraft Cardstock (50) was our biggest seller.
2013
Heather Nichols' Wonderful Words collection is one of our favorites. In March 2013, we released the second stamp set in the series, Wonderful Words: Birthday Mini Stamp Set. The stamp set features the word "birthday" in a whimsical mixed upper and lowercase serif font. The companion sentiments are clean, bold and pair well with the stamped word or with the coordinating Wonderful Words: Birthday Die.
2014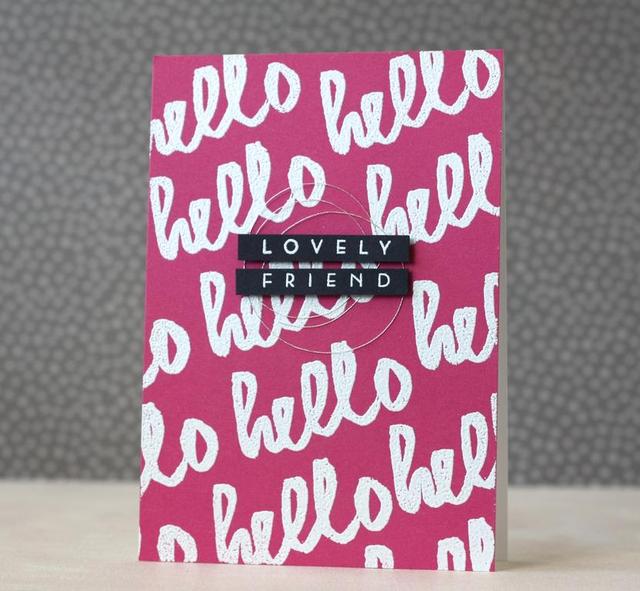 In 2014, we launched our Wet Paint Stamp Set, which became an instant hit with you all. This stylish new stamp set captured the look of hand-painted sentiments that can be used for many occasions with the smaller companion sentiments. We have since released a holiday version, an alphabet version and more in this Wet Paint collection.
And since you couldn't get enough of our buttons, our Button Stacks Die was the number one selling product in 2014. Once again, our Kraft Cardstock was the best-selling cardstock. You just couldn't get enough of this versatile classic brown cardstock.
2015
In early 2015, Betsy Veldman released an exciting new collection that made us fall head over heels. The Petite Places collection is a series of stamps and dies that allow you to create your own miniature village. And if it doesn't get any better than that, all the tiny places fit inside clear tag domes and ornaments! The first series, Petite Places: Church is perfect for creating wedding and baptism keepsakes. Betsy continued to expand the collection to include everything from Barnyard to Holiday scenes.
Pairing perfectly with all our Petite Places products, the Pop Up Trees Die adds just the right pizazz to all your creations. Fresh Snow Linen Cardstock was our best-selling cardstock for 2015.
2016
After a long winter of cold and snow, there is nothing more exciting than seeing the first tulips peek through the dirt letting you know that spring is on the way! Our Tulip Time Stamp Set designed by Betsy Veldman is the perfect set to create multi-step images and stunning backgrounds. We loved how some of you layered them over a watercolor background.
After the popularity of 2015's Petite Places line, we introduced Tiny Town in 2016. This collection of little buildings also doubles as treat boxes! Our Tiny Town: Basics Die is the foundational die set that creates all the basic buildings in the collection. Once you have the Tiny Town: Basics Die, there are 5 additional building fronts and four other accessories to create different types of buildings.
2017
Our Cutaway Tag collection is a great way to give all your cards a bit of three-dimensional design. You can accent the Cutaway Tags: Spring Die with the coordinating stamps and sentiments from the Cutaway Tags: Spring Stamp Set. With lots of flowers, leaves, and even a butterfly, this stamp and die set is perfect for all spring ideas. Once again, our classic brown Kraft Cardstock is your favorite paper.  Don't forget to check out Cutaway Tags: Summer and Cutaway Tags: Winter.
Over the years, we've created some incredible products for all your cardmaking needs. Now it's your turn. Tell what your favorite product is from the past 11 years!